WarnerMedia Headquarters
New York, NY
As the global headquarters for the entertainment industry's most iconic names, WarnerMedia's new head office needed to unite its portfolio of brands under one roof—both physically and symbolically—for the first time. At the media conglomerate's HQ, ESI Design, NBBJ's New York experience design studio, created an immersive media experience that tells a cohesive brand story, creating a sense of identity and community.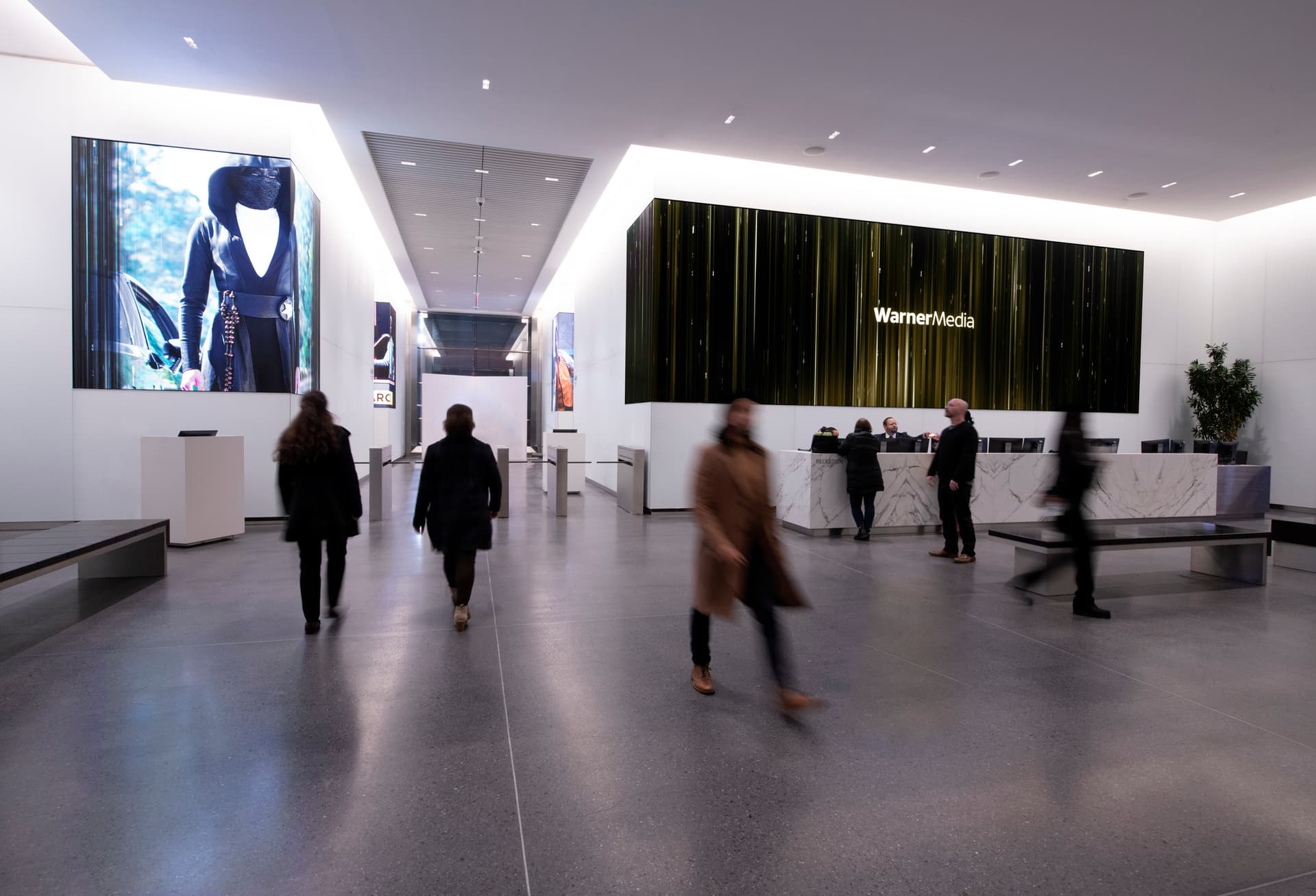 ESI Design integrated digital media across the company's 27 floors, from the main ground floor lobby to the sky lobby, screening floors, C-suite and workspaces. A unified design language of screens wrapped around corners gives a sense of dimensionality and displays media content from the company's vast universe of networks. With two interactive touchscreens fueled by WarnerMedia data sources, the audience is included in the brand experience.
The showpiece is a 65-foot digital sculpture for the spiral staircase in the building's glass "prow." The sculpture's seemingly random patterns of color and light are actually algorithmically-generated abstractions of WarnerMedia content. Tablets at the top and bottom of the staircase explain the content sources.
Project Details
Client Name
WarnerMedia
Square Footage
55,300 SF
Program
Corporate
Services
Experience design
Phase
Completed
Client Name
WarnerMedia
Square Footage
55,300 SF
Program
Corporate
Services
Experience design
Phase
Completed
ES Lumen NYC Awards Citation for Artistic Media-Driven Installation 
NYCxDesign Awards – Finalist, Creative Office 
ES Lumen NYC Awards Citation for Artistic Media-Driven Installation 
NYCxDesign Awards – Finalist, Creative Office