Seattle Opera at the Center
Seattle, WA
Bringing world-class performances to the public requires the coordinated efforts of many people, but the beauty and richness of this work is typically hidden from public view. The Seattle Opera at the Center turns the traditional program inside-out for the delight of the community, revealing the beautiful "behind-the-scenes" efforts that must coalesce to create a performance and breaking down barriers between audience and art.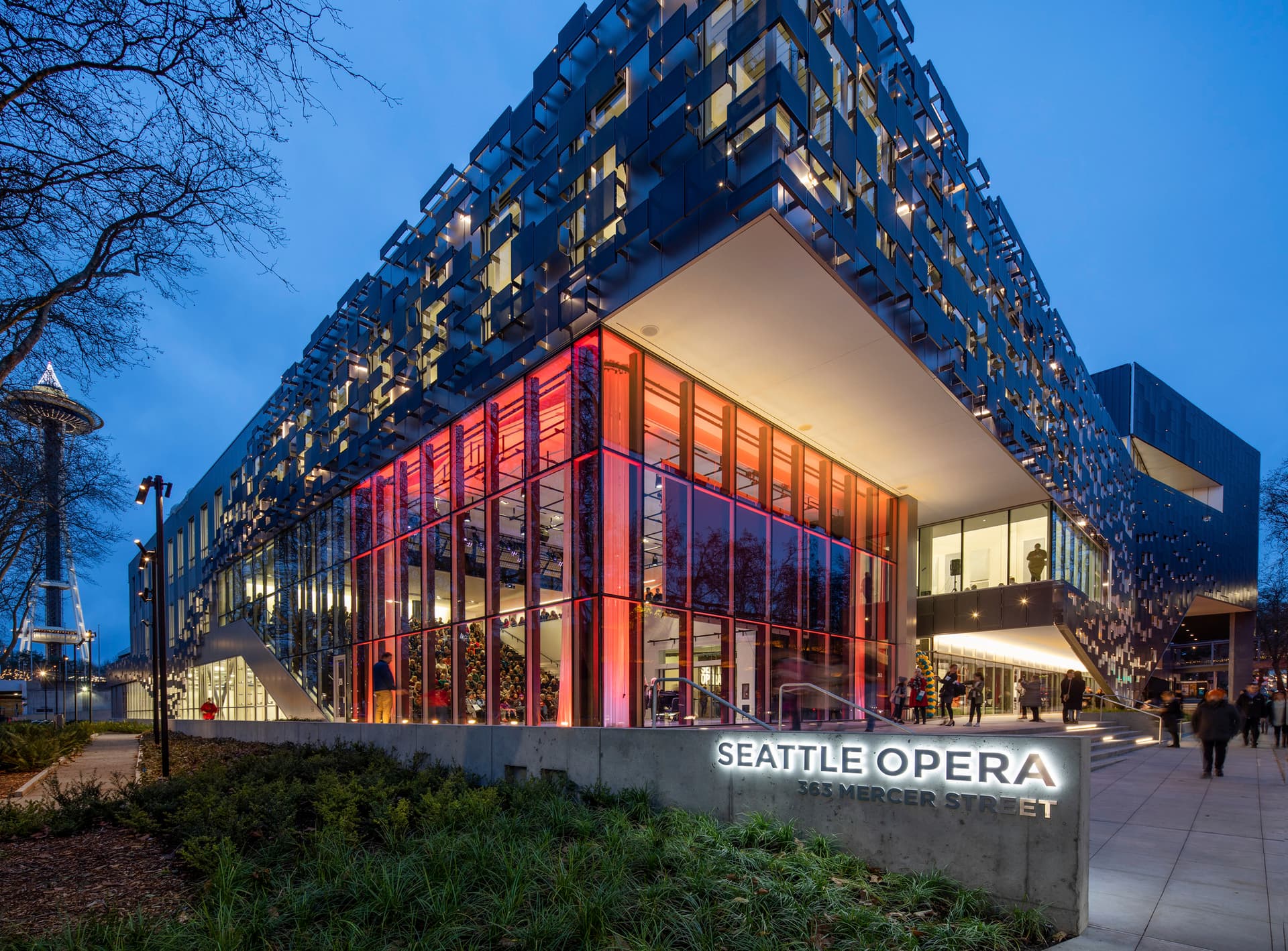 Education and engagement are considered throughout every aspect of the project: a corner glass-box rehearsal space engages the street, while curated views into the costume shop inspire with color and craft. Public outreach programs via educational classes, rehearsals, apprenticeships, open houses and more significantly expand the Seattle Opera's presence beyond those who attend formal performances.
The Seattle Opera at the Center formally links its new home for opera production to the traditional performance space next door with an intricate facade that was created using design computation to complement the existing McCaw Hall.
Project Details
Client Name
Seattle Opera
Square Footage
103,000 SF
Program
Auditorium, community and education space, rehearsal space, costume shop, office space, box office
Services
Feasibility study, master planning, site selection, urban design, full architectural services, interior design, landscape architecture, lighting design, environmental graphic design
Phase
Completed
Client Name
Seattle Opera
Square Footage
103,000 SF
Program
Auditorium, community and education space, rehearsal space, costume shop, office space, box office
Services
Feasibility study, master planning, site selection, urban design, full architectural services, interior design, landscape architecture, lighting design, environmental graphic design
Phase
Completed
Associated General Contractors of Washington, Build Washington Award
ASLA Ohio Chapter, Merit Award
Associated General Contractors of Washington, Build Washington Award
ASLA Ohio Chapter, Merit Award