Columbus Metropolitan Library: Northside Branch
Columbus, OH
Libraries are in transition—once a place of knowledge dissemination and quiet introspection, they are becoming spaces to meet, socialize, study, hang out and plug in. Columbus Metropolitan Library's branch at Northside is a key project in the library's larger push to reimagine libraries for the Information Age as catalysts for community, learning and positive change.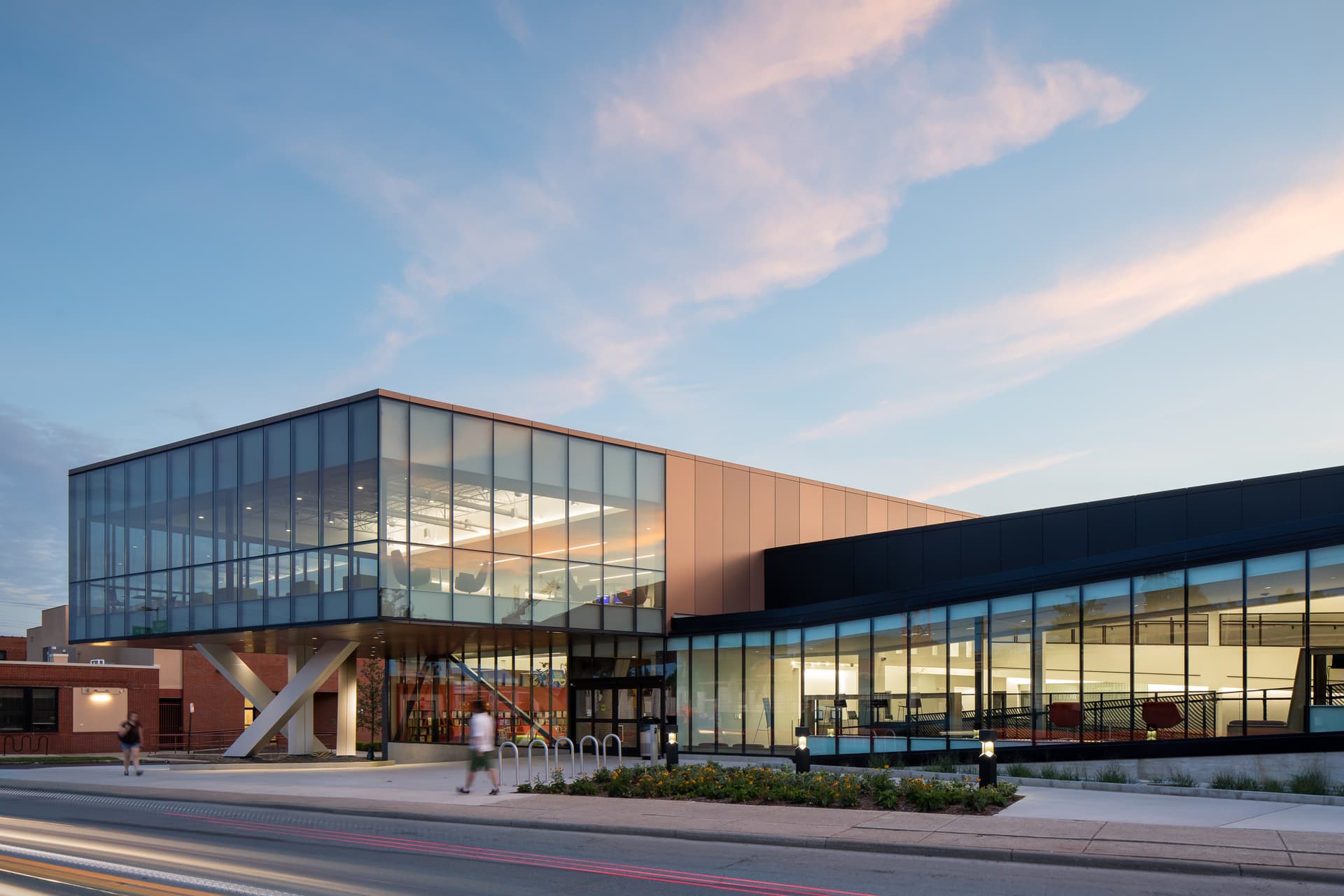 Northside Library serves as a civic anchor for the surrounding community—balancing quieter spaces for library stacks and reading nooks on the interior with more dynamic social and community spaces like a children's area and meeting spaces along the exterior. The Northside branch's social spaces ramp up to a dramatic cantilevered reading loft that engages the street, providing elevated views of the city and sheltering a public plaza.
In addition to work our with the Columbus Metropolitan Library for its Northside branch, we also worked on the Driving Park location. It features a functional, educational and beautiful landscape design that visibly controls storm water runoff to lessen the burden on city infrastructure while providing public green space in an urban neighborhood.
Project Details
Client Name
Columbus Metropolitan Library
Square Footage
Driving Park - 15,000 SF
Dublin – 41,000 SF
Northside – 24,500 SF
Program
Library stacks, meeting and community rooms, study rooms, café, children's area, offices, homework help center
Services
Architecture, interior design, landscape design
Phase
Completed
Client Name
Columbus Metropolitan Library
Square Footage
Driving Park - 15,000 SF
Dublin – 41,000 SF
Northside – 24,500 SF
Program
Library stacks, meeting and community rooms, study rooms, café, children's area, offices, homework help center
Services
Architecture, interior design, landscape design
Phase
Completed
Driving Park:
AIA Ohio, Honor Award
Contract Inspirations Award
Columbus Landmarks Foundation, James B. Recchie Design Award
Dublin:
AIA Columbus Merit Award
AIA Ohio Design Award, Honorable Mention
Columbus Underground, The Best Architectural Design of 2017
IIDA Columbus, Civic Winner
Northside:
AIA Columbus, Honor Award
ALA/IIDA Library Interior Design Award
Columbus Landmarks Foundation, James B. Recchie Design Award
IIDA Columbus, Honor Award
Interior Design, Best of Year, Library Finalist
Driving Park:
AIA Ohio, Honor Award
Contract Inspirations Award
Columbus Landmarks Foundation, James B. Recchie Design Award
Dublin:
AIA Columbus Merit Award
AIA Ohio Design Award, Honorable Mention
Columbus Underground, The Best Architectural Design of 2017
IIDA Columbus, Civic Winner
Northside:
AIA Columbus, Honor Award
ALA/IIDA Library Interior Design Award
Columbus Landmarks Foundation, James B. Recchie Design Award
IIDA Columbus, Honor Award
Interior Design, Best of Year, Library Finalist