Nanjing Eco Hi-Tech Island, Xin Wei Yi Technology Park
Nanjing, China
To create more sustainable buildings, building performance is best addressed from the outset through a coordinated, integrated approach. Nanjing Eco Hi-Tech Island in China embraces this notion, serving as the region's center for the practice of high-tech innovation, with cultural and workplace buildings that restore the environment, interweave nature and reduce the use of critical resources such as energy and water.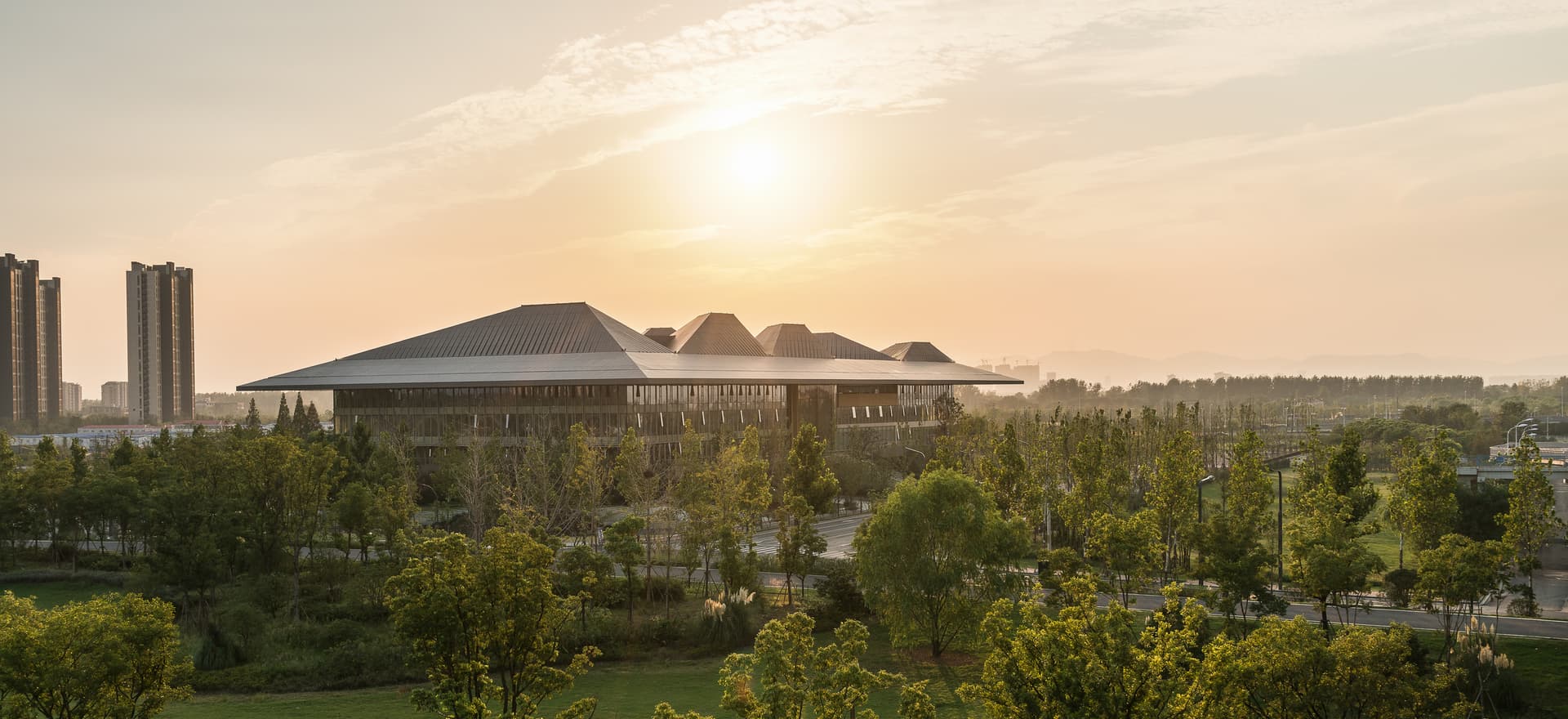 As China witnesses unprecedented growth—and contends with increased pollution, floods and other environmental effects—the Nanjing project provides smart eco-urbanism that prioritizes both people and the planet. The development offers a range of mixed-use spaces, including office buildings that serve as incubators for technology and environmental companies, as well as a cultural venue and a public promenade.
The technology park is anchored by an Exhibition Hall, which creates a welcoming impression—and helps reduce energy use by more than 30 percent—with its dramatic dual-layer roofline inspired by the horizon and nearby mountains. Each of the Exhibition Hall roofline's eight peaks features an oculus, or "light cannon" that drives natural light inside.
Project Details
Client Name
Sino-Singapore Nanjing Eco Hi-Tech Island Development Co., Ltd
Square Footage
86,000 SM
Program
Civic & cultural, office buildings
Services
Architecture, interior design, master planning, lighting design
Phase
Completed
Sustainability
Green Three Star (China's green building rating system)
Client Name
Sino-Singapore Nanjing Eco Hi-Tech Island Development Co., Ltd
Square Footage
86,000 SM
Program
Civic & cultural, office buildings
Services
Architecture, interior design, master planning, lighting design
Phase
Completed
Sustainability
Green Three Star (China's green building rating system)
Boston Society of Architects/AIA Honor Awards for Excellence, Winner
CREDAWARD, Gold Award, Public Building
Idea-Tops Awards, Finalist, Best Green Architecture
MIPIM Asia, Best Chinese Futura Project, Bronze Award
MIPIM Asia, Best Innovative Green Building, Gold Award
Boston Society of Architects/AIA Honor Awards for Excellence, Winner
CREDAWARD, Gold Award, Public Building
Idea-Tops Awards, Finalist, Best Green Architecture
MIPIM Asia, Best Chinese Futura Project, Bronze Award
MIPIM Asia, Best Innovative Green Building, Gold Award