Massachusetts General Hospital, Lunder Building
Boston, MA
Like many urban hospitals, world-renowned institution Massachusetts General Hospital (MGH) needed to expand its services to meet a growing patient population and continue providing the quality care it is known for—all within the constraints of a dense, historically rich city. The Lunder Building—an addition to the hospital's compact downtown Boston campus—provides a high-tech, patient-centered healing environment that can grow with the changing needs of the community.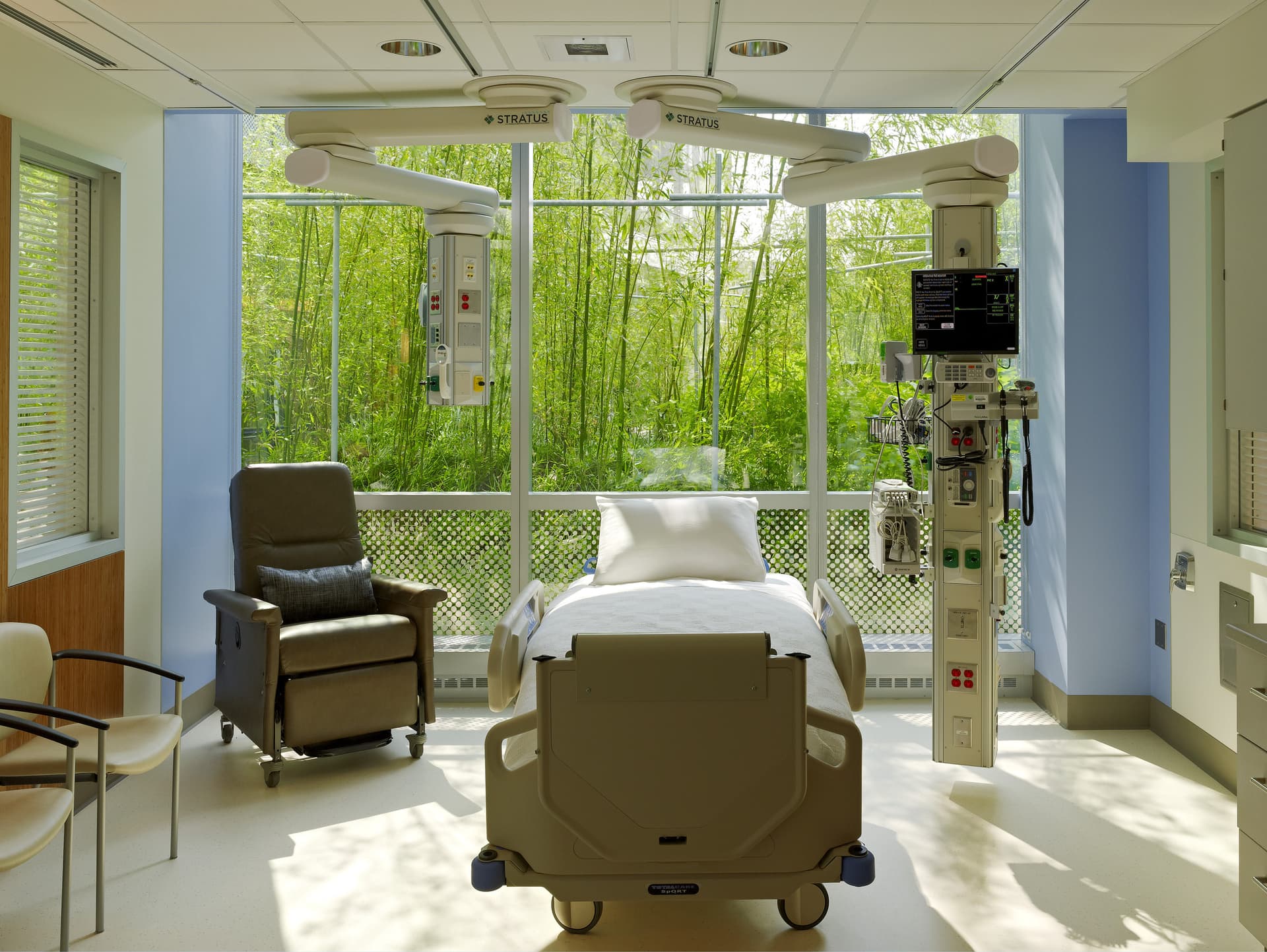 Digital tools allowed the design team to manage the complexities of a programmatically dense building and a constrained site, making multiple connections to existing buildings and linking numerous departments within—all while maximizing opportunities for future flexibility, daylight, patient safety and staff productivity.
The project increases the number of beds and shifts from double to single patient rooms for infection prevention, privacy and greater patient/family-centered care. Moving the floor plate diagonally to create a central circulation spine and two interlocking c-shaped groups of beds allows for more rooms per floor, increases clinical connection and minimizes staff travel times.
Project Details
Client Name
Massachusetts General Hospital
Square Footage
530,000 SF
Program
150 beds, procedures, ED, radiation oncology
Services
Architecture, interior design, lighting design, environmental graphics
Completion
2011
Sustainability
LEED NC Gold
Client Name
Massachusetts General Hospital
Square Footage
530,000 SF
Program
150 beds, procedures, ED, radiation oncology
Services
Architecture, interior design, lighting design, environmental graphics
Completion
2011
Sustainability
LEED NC Gold
AIA Academy of Architecture for Health (AAH), National Healthcare Design Award
Boston Society of Architects Design Award, Honor Awards for Design Excellence
Healthcare Design, Architectural & Interior Design Showcase, Citation of Merit
International Academy for Design and Health, High Commendation
Modern Healthcare, Design Awards, Citation
AIA Academy of Architecture for Health (AAH), National Healthcare Design Award
Boston Society of Architects Design Award, Honor Awards for Design Excellence
Healthcare Design, Architectural & Interior Design Showcase, Citation of Merit
International Academy for Design and Health, High Commendation
Modern Healthcare, Design Awards, Citation