NYU Langone Health Helen L. and Martin S. Kimmel Pavilion
New York, NY
Hospital visits are often stressful, so the Kimmel Pavilion, the largest expansion in the history of NYU Langone Health, is designed with the patient journey in mind. The Pavilion enhances wellness and patient satisfaction with a welcoming, personalized environment and an LEED Platinum design.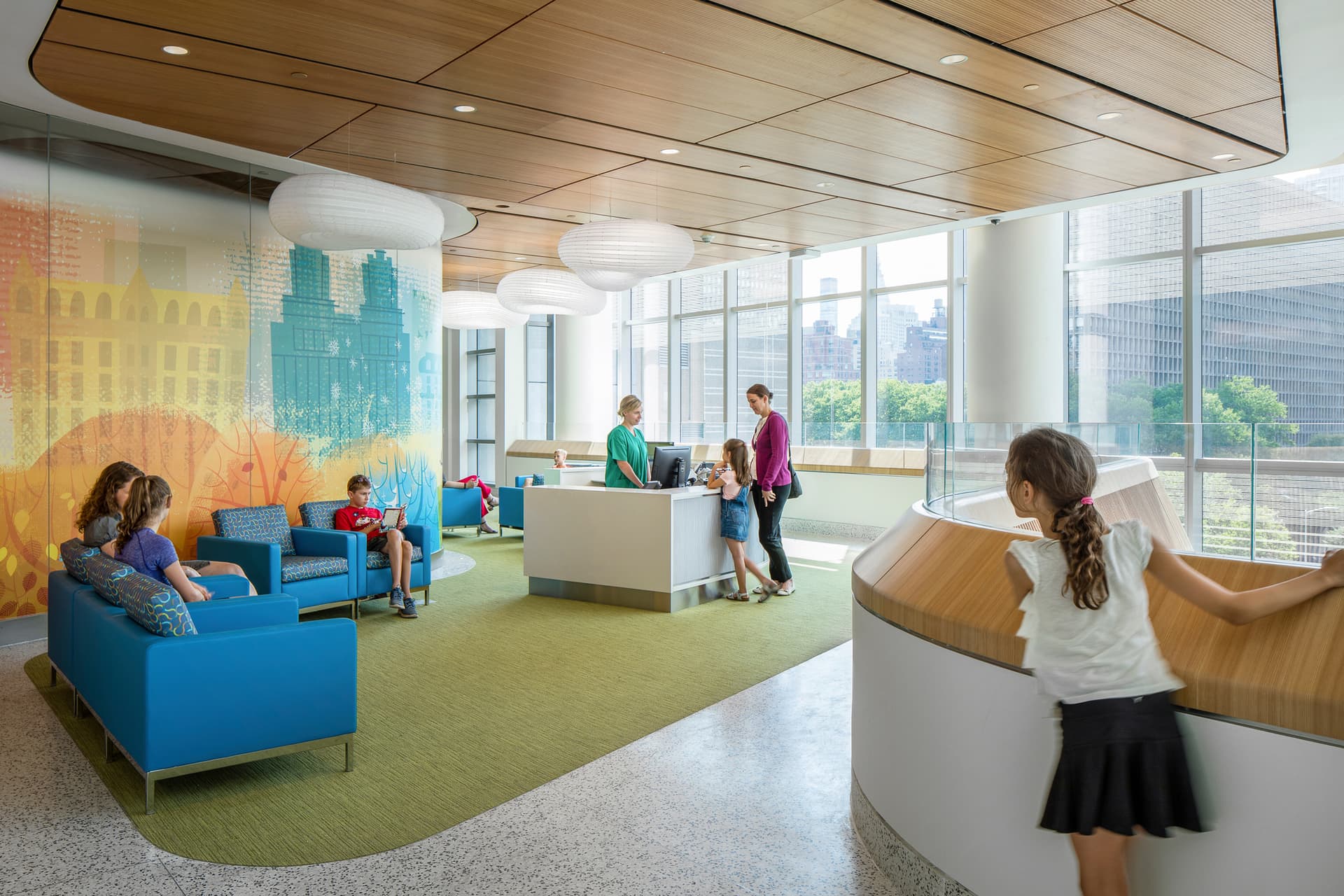 The design gives patients more control over their environment and promotes peace of mind. Features like a landscaped plaza separate the front door and lobby from the street, which allows patients to transition to a calm, welcoming setting.
In addition, extensive daylighting and transparent, intuitive navigation throughout creates restorative and streamlined spaces. Inpatient floors are designed for maximum efficiency and comfort for patients, families and staff—single-occupancy inpatient rooms increase privacy, reduce the risk of infection and improve staff workflow. To further the teaching mission of this academic medical center, staff lounges and huddle spaces are distributed throughout the floors so clinicians and students can discuss cases privately without disturbing patients.
The Kimmel Pavilion is one of ten LEED platinum hospitals worldwide and the NYU Langone campus is the first in the world to receive the platinum certification from USGBC's new PEER certification program.  
Project Details
Client Name
NYU Langone Health
Square Footage
830,000 SF
Program
374 beds, ED, 30 ORs and procedure rooms
Services
Architecture, interior design, medical planning
Design collaboration: Ennead Architects
Phase
Completed
Client Name
NYU Langone Health
Square Footage
830,000 SF
Program
374 beds, ED, 30 ORs and procedure rooms
Services
Architecture, interior design, medical planning
Design collaboration: Ennead Architects
Phase
Completed
Healthcare Design Magazine Award, Honorable Mention 
Structural Engineering Association of New York Excellence in Structural Engineering Awards, Engineer's Choice 
ULI New York, Winner, Excellence in Institutional Development
Healthcare Design Magazine Award, Honorable Mention 
Structural Engineering Association of New York Excellence in Structural Engineering Awards, Engineer's Choice 
ULI New York, Winner, Excellence in Institutional Development