United States Federal Courthouse, Bakersfield
Bakersfield, CA
Civic buildings must illustrate a nation's commitment to future generations while at the same time respecting its history. A deceptively simple design and sustainability strategy tailored to the courthouse's needs and location result in a building that upholds the Design Excellence, Design Build vision of the General Services Administration and was delivered in two and a half years, $2.5 million under budget.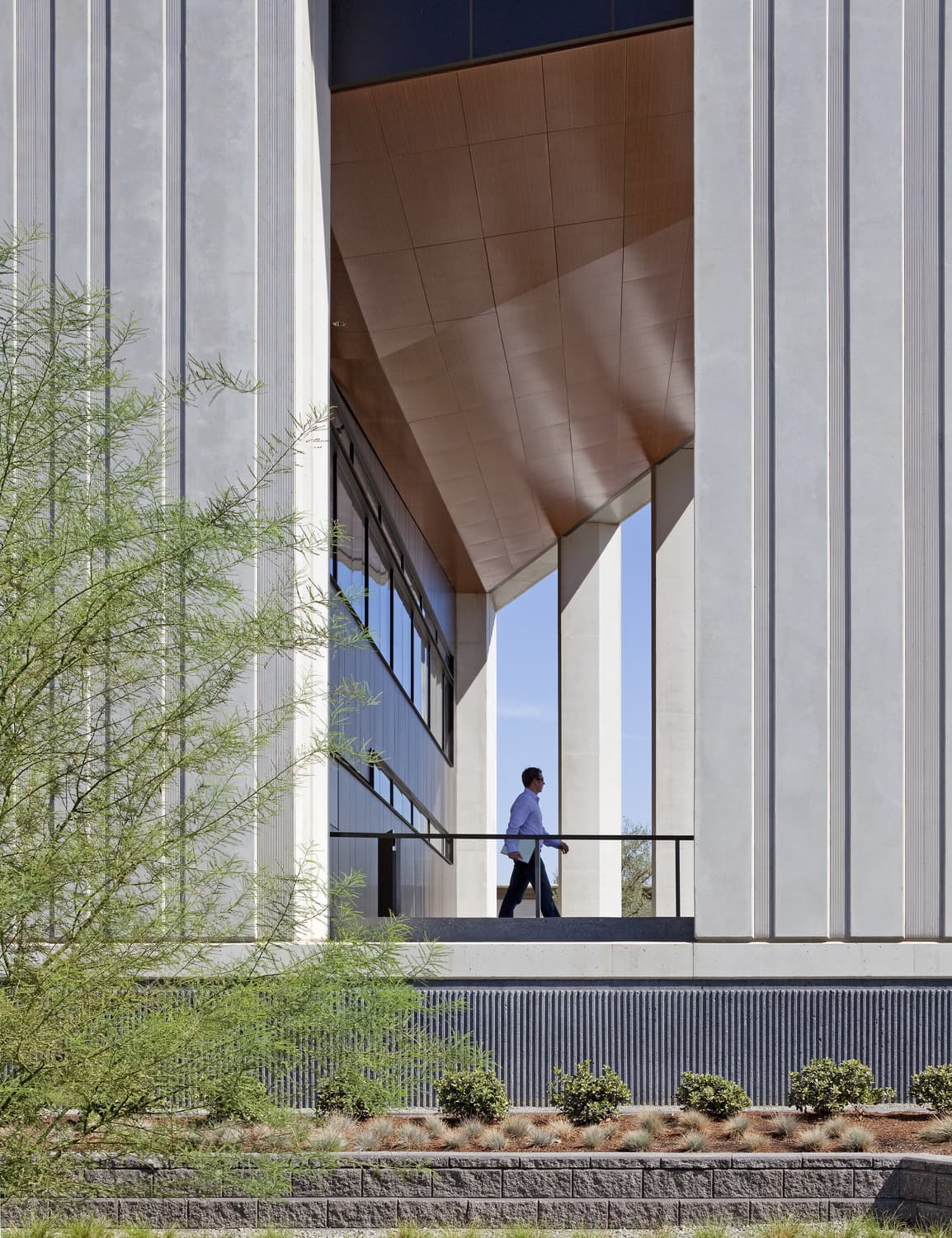 Overlooking the only park in downtown Bakersfield and drawing inspiration from classical public architecture but with a modern twist, the United States Courthouse reinterprets the quintessential "courthouse on the village green."
The courthouse utilizes active and passive sustainability techniques such as a rooftop solar hot water system, a photovoltaic array of solar panels, minimized mechanical cooling and increased daylighting to achieve a 45 percent reduction in energy as compared to typical courthouse facilities.
Project Details
Client Name
United States General Services Administration
Square Footage
33,400 SF
Program
Magistrate courtroom and chambers, jury deliberation room, support service spaces
Services
Architecture, interior design, lighting, environmental graphic design
Phase
Completed
Sustainability
LEED Gold
Client Name
United States General Services Administration
Square Footage
33,400 SF
Program
Magistrate courtroom and chambers, jury deliberation room, support service spaces
Services
Architecture, interior design, lighting, environmental graphic design
Phase
Completed
Sustainability
LEED Gold
AIA Justice Facilities Review, Citation
AIA Justice Facilities Review, Jury Recognition of Innovation
ENR California, Award of Merit
General Services Administration Design Awards, Citation
AIA Justice Facilities Review, Citation
AIA Justice Facilities Review, Jury Recognition of Innovation
ENR California, Award of Merit
General Services Administration Design Awards, Citation