The Works, Unity Campus
Cambridge, UK
The next generation of life sciences buildings require flexibility to accommodate new ways of working as well as high quality space to appeal to tenants. The Works reimagines a former auto-body shop as a flexible, R&D-driven work environment, celebrating the history of the site while paving the way for future regeneration of the area and a rapidly growing community.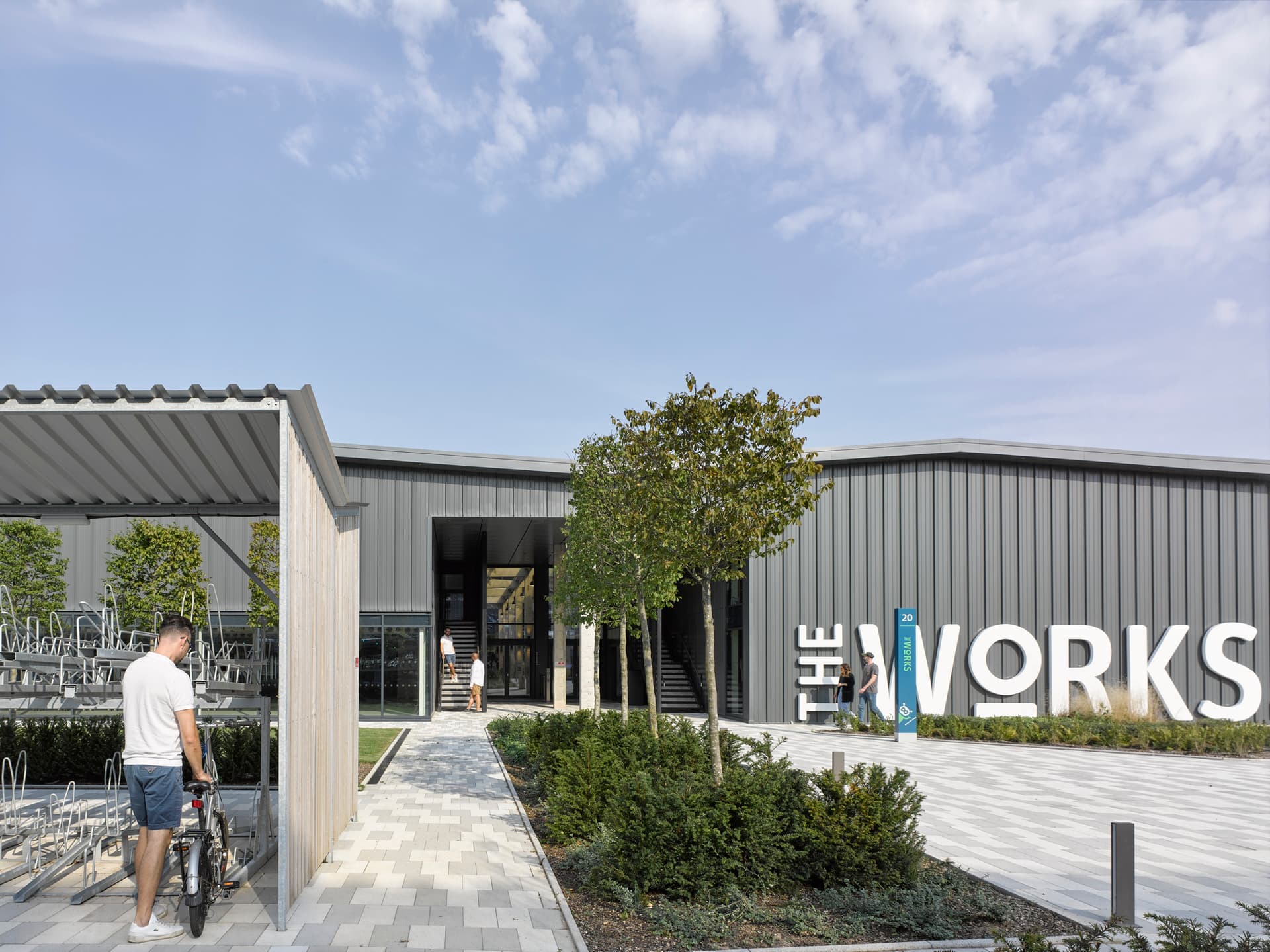 As the first new building to be constructed at Unity Campus, an area meant to harness the exceptional demand for office and research space in the fast-paced Cambridge life science and technology cluster, The Works supports the influx of dynamic and innovative high growth businesses with a range of flexible working options, from office spaces to breakout areas, lounge and quiet areas, meeting spaces, food vendors and collaborative open spaces.
The design restructures the building's internal space, which is housed within the pre-cast concrete frame of the original building. The addition of a steel mezzanine doubles the internal floor area and a new metal sheet cladding on the exterior emphasizes the original shed profile.
Project Details
Client Name
Howard Group
Square Footage
65,000 SF
Program
Commercial offices and amenity spaces
Services
Architecture, interior design, laboratory planning, programming, environmental graphics
Phase
Completed
Client Name
Howard Group
Square Footage
65,000 SF
Program
Commercial offices and amenity spaces
Services
Architecture, interior design, laboratory planning, programming, environmental graphics
Phase
Completed
AJ Retrofit Awards, Finalist, Refurbishment
BCO Awards, Finalist, Recycled/Refurbished Workplace
Cambridge Design and Construction Awards, Winner, Refurbishment Project
AJ Retrofit Awards, Finalist, Refurbishment
BCO Awards, Finalist, Recycled/Refurbished Workplace
Cambridge Design and Construction Awards, Winner, Refurbishment Project
RIBAJ, August 2021 
Breakthrough Magazine, Spring 2020
RIBAJ, August 2021 
Breakthrough Magazine, Spring 2020