Southeast Louisiana Veterans Health Care System, Replacement Medical Center
New Orleans, LA
The healthcare needs of veterans often differ from those of the wider population. Through extensive interviews and research with VA patients and staff, the design team gained an empathetic understanding of this unique population, resulting in a resilient design that honors veterans' service and reflects the history and urban context of New Orleans.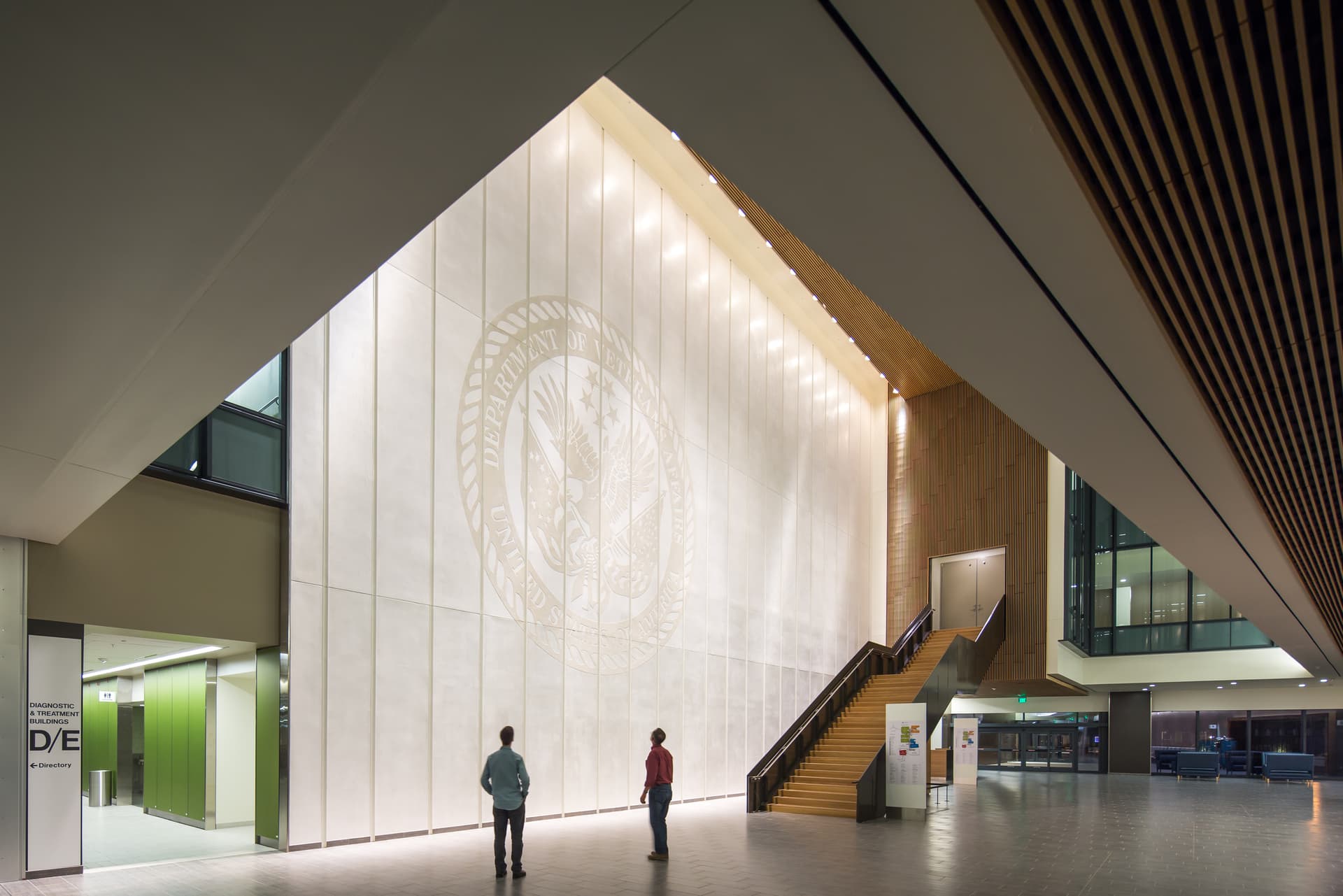 Color, material and spatial cues were designed specifically with the needs of Louisiana veterans in mind, with a central concourse that simplifies navigation and eases anxiety, clearly-marked restrooms located near the entrance for those who have driven a long distance, a serene, light-filled chapel and color and furniture choices that address specific concerns such as post-traumatic stress disorder and color-blindness. In addition, a five-day capability to operate independently applies lessons learned from Hurricane Katrina, allowing the facility to remain fully operational during a disaster, with enough provisions and accommodations for up to 1,000 staff and patients.
Functioning much like a city street, a central concourse organizes the entire campus, which includes 200 inpatient beds, 370 outpatient exam rooms, 21 procedural suites, ambulatory clinics, emergency and imaging departments, behavioral health services, patient education facilities, transitional living and outpatient rehabilitation as well as parking garages, a central energy plant and a research building.
Project Details
Client Name
Southeast Louisiana Veterans Healthcare System
Square Footage
1,700,000 SF
Program
Inpatient, procedural, ED, imaging, outpatient, ambulatory, transitional living, behavioral health, research, offices 
Services
Master planning, architecture, interior design
Phase
Completed
Client Name
Southeast Louisiana Veterans Healthcare System
Square Footage
1,700,000 SF
Program
Inpatient, procedural, ED, imaging, outpatient, ambulatory, transitional living, behavioral health, research, offices 
Services
Master planning, architecture, interior design
Phase
Completed
Engineering News-Record, Best of the Best Health Care Award
CMAA Gulf Coast Chapter Best Project Achievement Awards, Healthcare Winner
Engineering News-Record, Best of the Best Health Care Award
CMAA Gulf Coast Chapter Best Project Achievement Awards, Healthcare Winner