Hangzhou Sports Center
Hangzhou, China
For many stadiums and arenas, there is frequently a tradeoff between sustainability, performance and iconic design. Hangzhou Sports Center unites all three, featuring a poetic, floral-inspired design that simultaneously reduces carbon and material use. The development uses 67% less steel than Beijing Olympic Stadium, making it both beautiful and sustainable while creating a world-class sporting venue for a booming city.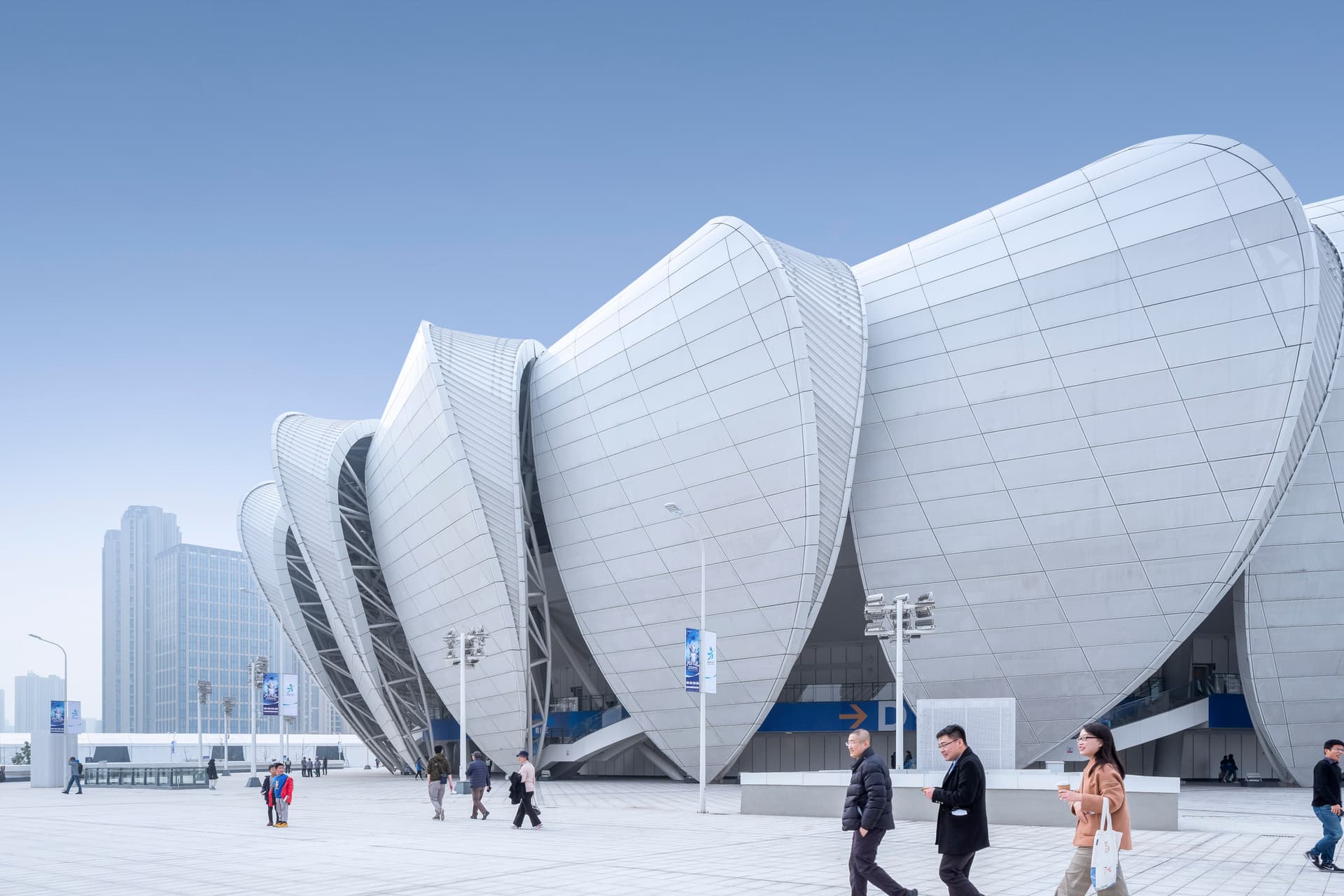 New construction has tripled Hangzhou's size in the past decade, resulting in a modern architectural fabric that is powerful in scale, yet still in need of public space. As part of the city's riverfront development, NBBJ in partnership with CCDI has designed the Hangzhou Sports Park to be a vibrant, sustainable, pedestrian-centric recreation development.
To save resources and create flexibility, the design team employed computational scripts to reduce steel: 1) by linking the steel shell and concrete bowl together at each level so the two systems work in unison; and 2) by providing additional structure at the bowl's top to reduce the roof cantilever.
Project Details
Client Name
City of Hangzhou
Square Meters
37,000 SM
Program
80,000-seat main stadium, 10,000-seat tennis center, convention center, aquatic center, retail
Services
Architecture, lighting design
Phase
Completed
Client Name
City of Hangzhou
Square Meters
37,000 SM
Program
80,000-seat main stadium, 10,000-seat tennis center, convention center, aquatic center, retail
Services
Architecture, lighting design
Phase
Completed
ArchDaily Building of the Year Awards, Finalist, Sports Category
Fast Company Innovation by Design Awards, Honorable Mention (Space and Places)
Interior Design Magazine Best of Year Award
Prix Versailles Sports Award
ArchDaily Building of the Year Awards, Finalist, Sports Category
Fast Company Innovation by Design Awards, Honorable Mention (Space and Places)
Interior Design Magazine Best of Year Award
Prix Versailles Sports Award