F5 Networks Customer Experience Center
Seattle, WA
Customer briefing centers—environments that help organizations build client relationships—are typically impersonal spaces where tech, rather than the human experience, takes center stage.  The Customer Experience Center (CEC) for F5 Networks, a leading technology company that builds software for top corporations running public cloud infrastructure, differentiates itself by creating a hospitality-like environment with welcoming amenities for customers that seamlessly integrate technology with a human touch.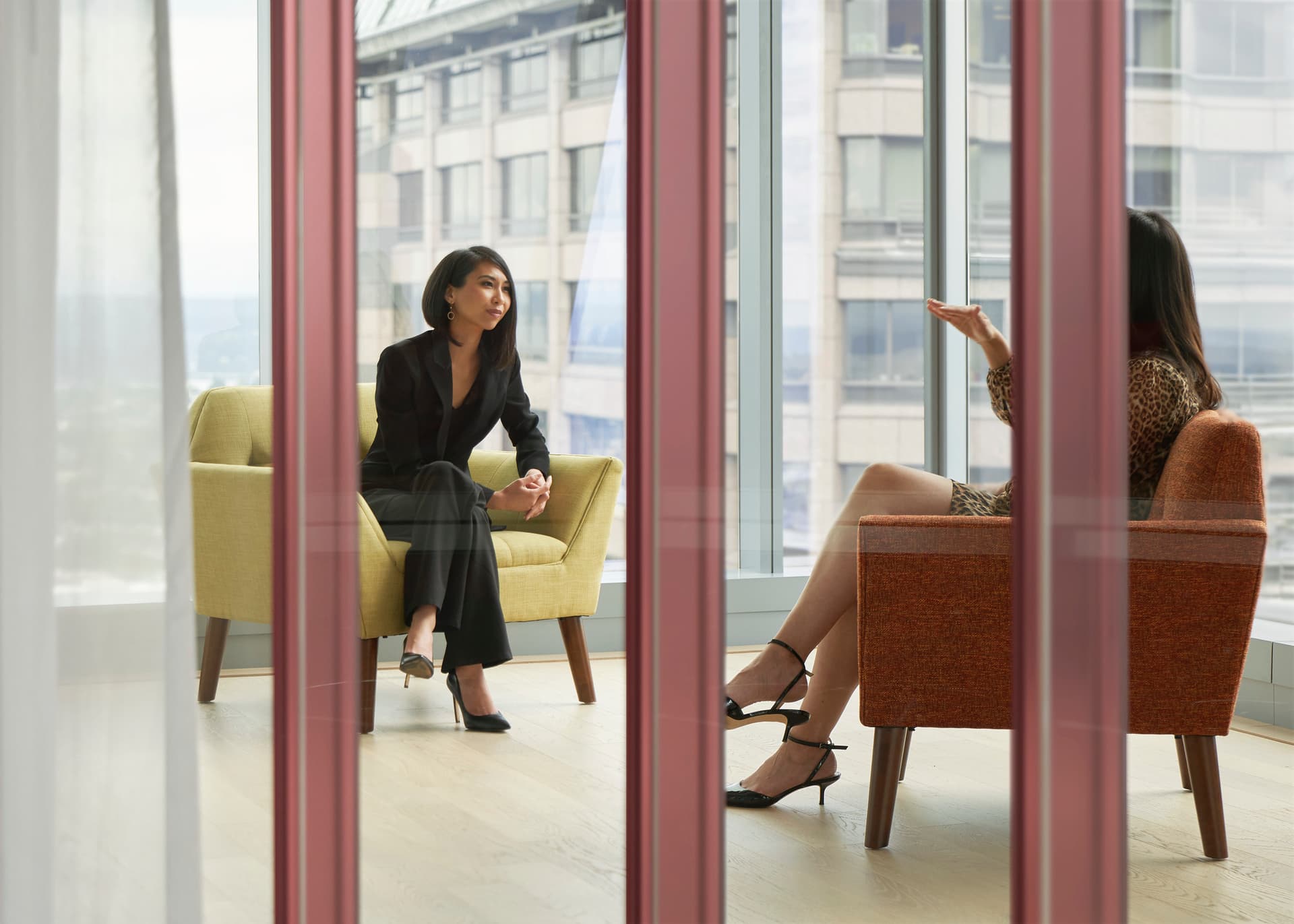 In 2017, F5 decided to move away from a campus of four-story buildings on Elliot Bay to a single vertical high-rise in Seattle's downtown core. At the top of the building is the CEC, an interactive experience hub that introduces potential customers to F5's technology, overcoming a small, irregularly-shaped floor to heighten connectivity between customers, staff and visitors while providing expansive urban, mountain and water views.
In F5 Networks' Customer Experience Center (CEC), an organic environment allows visitors to move freely around the perimeter for spectacular views of Seattle and beyond. By taking advantage of the building's unique form, the design redefines the tech experience: it features smooth curves, minimal textures, subtly-colored and layered glass and elevated corners to bring a rare softness to the tech world.
Project Details
Client Name
F5 Networks
Square Footage
16,700 SF
Programs
Lobby, reception, hospitality lounge, boardroom, meeting room, training room, speakeasy, lounge, café
Services
Interiors, environmental graphics design, lighting design
Phase
Completed
Client Name
F5 Networks
Square Footage
16,700 SF
Programs
Lobby, reception, hospitality lounge, boardroom, meeting room, training room, speakeasy, lounge, café
Services
Interiors, environmental graphics design, lighting design
Phase
Completed
ABPM Award for World Class Center and Briefing Center Innovation, World Class Status
IES Lighting Award of Merit
NAIOP Washington State Night of the Stars Winner, Office Interior of the Year
ABPM Award for World Class Center and Briefing Center Innovation, World Class Status
IES Lighting Award of Merit
NAIOP Washington State Night of the Stars Winner, Office Interior of the Year