Amazon in the Regrade
Seattle, WA
The typical corporate campus is walled off, separated from the community. But Amazon was born in Seattle and draws much of its energy from its city location. So, we designed the 3.3-million-square-foot campus as a neighborhood of buildings, plazas and public spaces that connect seamlessly with Seattle's existing metropolitan fabric.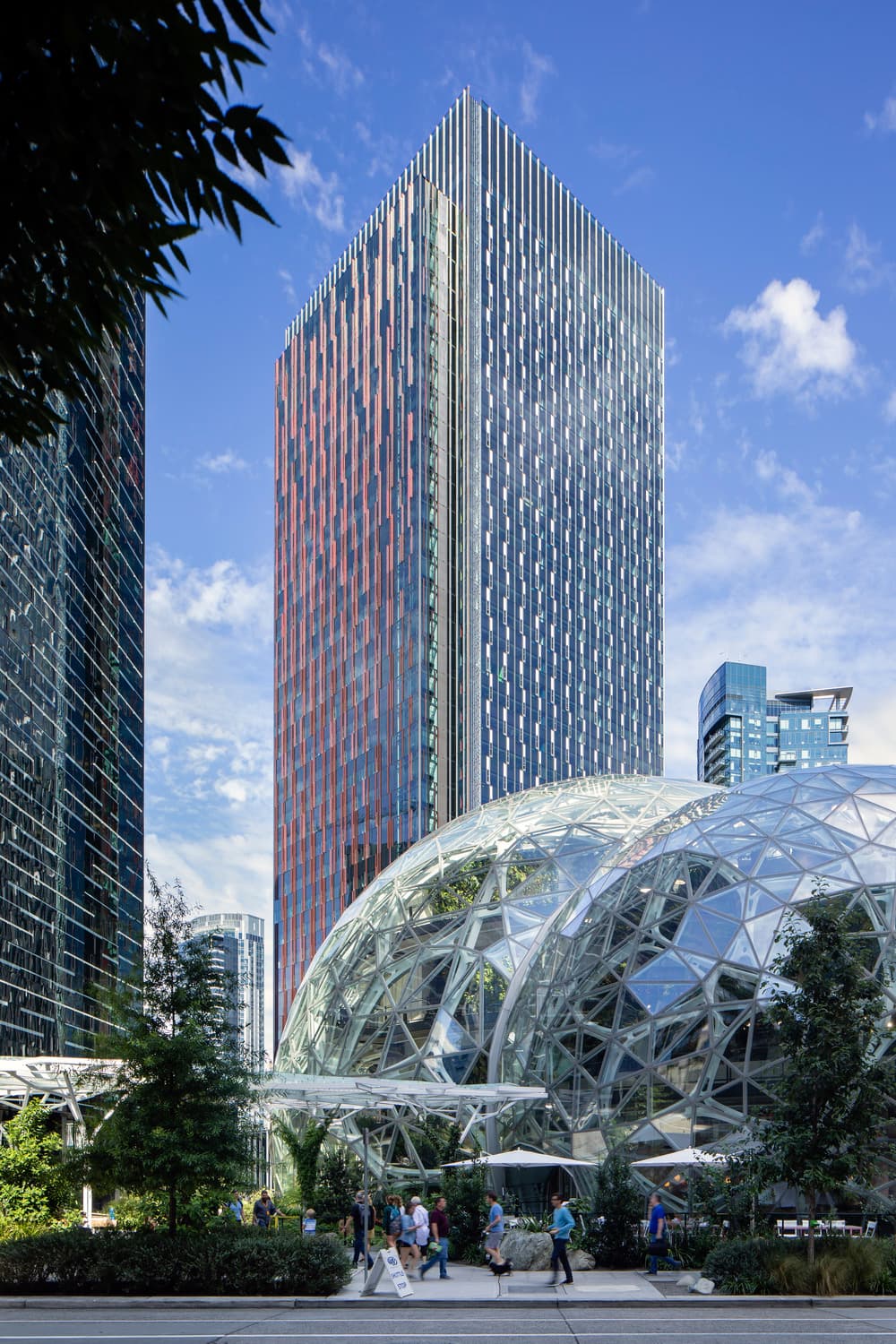 By integrating into downtown Seattle, Amazon's headquarters improves both its employees' workday and the city and community at large.  The site, which spans three city blocks, is designed to maximize views and daylighting. It also minimizes solar loads and welcomes employees and the public with plazas, gardens, and communal amenities from a marketplace and dining to a tech support bar and maker space. 
The centerpiece of the Amazon headquarters is The Spheres: a multi-story, glass-enclosed workplace containing tens of thousands of plants and trees from around the world. As exposure to nature is proven to put people at ease and help them think more creatively, The Spheres are designed to help Amazon employees feel and work their best, and are open to the public on weekends.
Project Details
Client Name
Amazon
Square Footage
3,300,000 SF
Program
Three high-rise office towers, two mid-rise office buildings, one multipurpose meeting center
Services
Architecture, interior design, landscape design, environmental graphics, lighting design
Phase
Completed
Client Name
Amazon
Square Footage
3,300,000 SF
Program
Three high-rise office towers, two mid-rise office buildings, one multipurpose meeting center
Services
Architecture, interior design, landscape design, environmental graphics, lighting design
Phase
Completed
AIA Seattle, Honorable Mention
CoreNet Global Washington State Chapter Awards, Innovative Workplace of the Year (over 20,000 SF)
CREDAWARDS Silver Award
Fast Company Innovation By Design Award, Workplace Winner
Seattle Design Review Program, People's Choice Awards, 2nd Place, Highrise Category 
AIA Seattle, Honorable Mention
CoreNet Global Washington State Chapter Awards, Innovative Workplace of the Year (over 20,000 SF)
CREDAWARDS Silver Award
Fast Company Innovation By Design Award, Workplace Winner
Seattle Design Review Program, People's Choice Awards, 2nd Place, Highrise Category 
Bloomberg, "Inside Amazon's Giant Spheres, Where Workers Chill in a Mini Rainforest"
CNN, "Amazon's new workplace perk, the Spheres, to open Monday" 
Fast Company, "A First Look At The Spheres, Amazon's Wild New Corporate Biodome"  
Popular Science, "Is Amazon's Dome Headquarters the Workspace of the Future?" 
The New Yorker, "High-Tech Companies, Low-Tech Offices"  
The Wall Street Journal, "Inside Amazon's Spheres, the Biodome Office in Seattle"
Bloomberg, "Inside Amazon's Giant Spheres, Where Workers Chill in a Mini Rainforest"
CNN, "Amazon's new workplace perk, the Spheres, to open Monday" 
Fast Company, "A First Look At The Spheres, Amazon's Wild New Corporate Biodome"  
Popular Science, "Is Amazon's Dome Headquarters the Workspace of the Future?" 
The New Yorker, "High-Tech Companies, Low-Tech Offices"  
The Wall Street Journal, "Inside Amazon's Spheres, the Biodome Office in Seattle"