Elks Children's Eye Clinic at Oregon Health & Science University Casey Eye Institute
Portland, OR
Though people who are blind and visually impaired have their vision affected in different ways, low contrast sensitivity is a hallmark of many diagnoses. This sensitivity is often at odds with the design of clinics, which typically integrate bright light, diverse color schemes and difficult to read signage. So when it came time to design a new building for Oregon Health & Science University's Casey Eye Institute, we combined intensive research with an empathetic design process that first saw the world through the eyes of patients to create spaces that are attuned to their unique conditions and needs.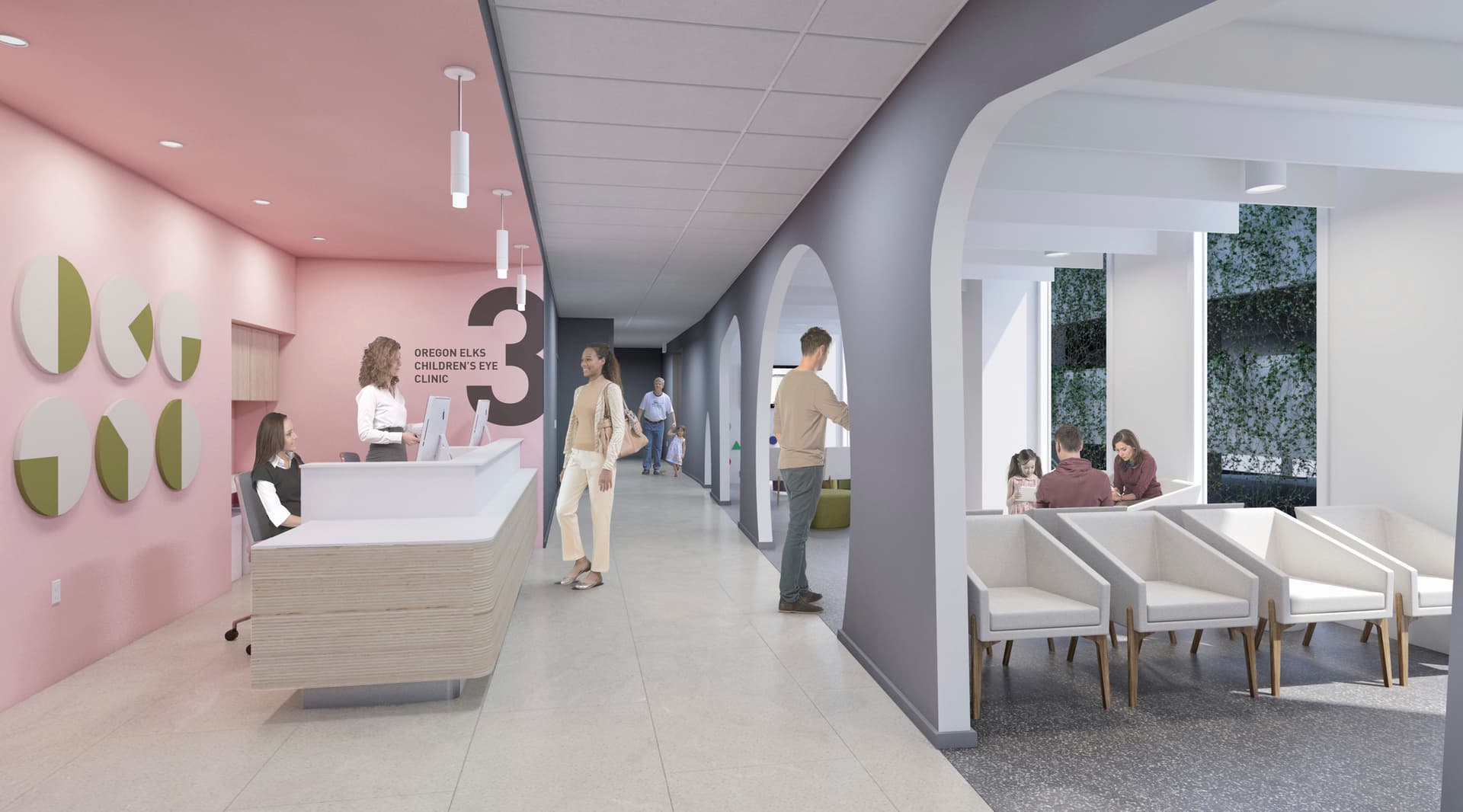 Our design team shadowed patients and interviewed staff about diagnostic conditions in collaboration with OHSU Casey Eye Institute researchers. The team then used this knowledge to develop custom simulations early in the process that allowed them  to input a specific eye condition and then view proposed designs through that lens. These research techniques resulted in targeted design solutions to create an intuitive and visually comfortable environment throughout OHSU's new Elks Children's Eye Clinic building.
Quiet sub-waiting spaces with dimmable lighting dominate much of the new clinic, and with most patients dilating during their visits, daylight is kept to a minimum. 
Project Details
Client Name
Oregon Health & Science University
Square Footage
60,000 SF
Program
Eye clinic and center for retina services

Services
Interior design, architecture, environmental graphic design, landscape design
Phase
Completed
Client Name
Oregon Health & Science University
Square Footage
60,000 SF
Program
Eye clinic and center for retina services

Services
Interior design, architecture, environmental graphic design, landscape design
Phase
Completed