To create the optimal environment for a new age of multidisciplinary research, the University of Pittsburgh had to radically rethink its engineering spaces, transforming Benedum Hall and adding the new Mascaro Center for Sustainable Innovation.
The University of Pittsburgh's Swanson School of Engineering has driven engineering-based innovation for over 100 years. With strengths in energy, bioengineering, nanosystems, computational modeling, and advanced materials, today its faculty and students collaborate in ways that require a radically different approach to research facilities. Yet this research model was hindered by Benedum Hall, the school's 1960s Brutalist-inspired building, which was designed for segmentation, not collaboration. It required a bottom-to-top renovation and expansion.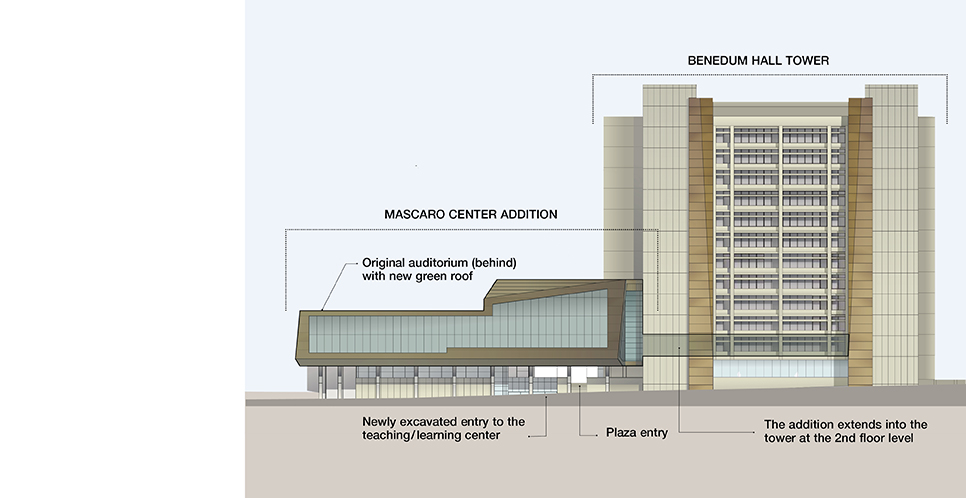 Renovating Benedum Hall converted a rigid, repetitive arrangement of classrooms, laboratories, and offices into open, flexible space that supports collaboration and a fluid learning paradigm. The open plan allows researchers to share not only space, but also ideas. This shortens the distance, both physically and pedagogically, between application and analysis.
Reconfigurable wall systems allow for flexible use—for teaching, breakouts, or events.
Classrooms are brighter and can be reconfigured easily for different teaching approaches.
Hallways and corridors now have welcoming seating areas for study and collaboration.
Hard-walled labs have given way to open co-laboratories.
Laboratory Reconfiguration
The laboratories, once cramped and isolated, dedicated to single disciplines and surrounded by space-wasting corridors, are now open and flooded with natural light. Relocating utilities (in yellow) to the perimeter yielded a larger area with more flexibility, while the open plan reduced the number of corridors and freed more area for lab space. Movable equipment and benches allow further flexibility as research needs change.
Three New Floors
Reconfiguring the labs freed up a significant amount of space: enough to dedicate three entire floors to new non-departmental, interdisciplinary centers working in computation, energy, and innovation. Departments are arranged so that likely collaborators are as close to one another and to the cross-disciplinary spaces as possible.
Building Information Modeling (BIM)
Using Building Information Modeling and advanced scheduling, the designers were able to develop a multi-phase construction process—a "musical chairs" sequence—that allowed two-thirds of the facility to continue operating at all times. The Mascaro Center, built first, became swing space into which the Benedum Hall programs moved during renovation.
Awards
AIA Columbus, Honor Award
AIA Pittsburgh, Design Pittsburgh Award
Publications
Pitt Chronicle, "Mascaro Center's New Home Takes Green Design, Engineering to Heart," August 26, 2009
ArchDaily, "Mascaro Center for Sustainable Innovation," August 19, 2011
Pitt News, "Pitt Building Wins International Design Award," September 24, 2012