Located adjacent to the Suning headquarters, the Suning.com building will contribute to the larger campus while also establishing a new personality specific to online business.
Suning.com is the online consumer division of Suning — China's leading provider of electronics and home appliances. Suning.com's building location, site circulation, architecture and landscape design utilizes its proximity to nature and the Suning headquarters to create a campus that is more than just a workplace. The new building wraps around a central plaza that opens up toward the main Suning campus to the south, connecting with the existing open space program to facilitate a sense of community. By establishing a clear connection to the Suning headquarters, the Suning.com campus reminds its employees of their connection to a greater whole.
In addition to the central plaza, the campus includes approximately 80,000 square meters of office space, a conference center, film studio, data center and exhibition hall, with accommodations for up to 5,000 people.
A connected campus: Suning.com (left) and Suning headquarters (right).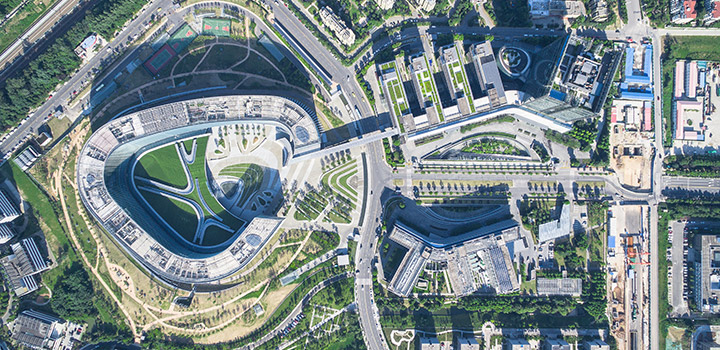 Illuminating Engineering Society (IES), Illumination Award of Merit
MIPIM Asia 2015, Best Office & Business Development, Silver
MIPIM Asia 2012, Best Chinese Futura Project, Silver