85 Broad Street Repositioning
New York, NY
Attracting and retaining talent is critical for urban tenants, however, many commercial developments are aging, outdated and susceptible to environmental events.
Beacon Capital Partners acquired 85 Broad Street after it was significantly damaged by Hurricane Sandy and subsequently vacated by many of its tenants. Beacon called upon NBBJ and ESI Design to lead the repositioning of the buttoned-down 1980's building to appeal to younger, more entrepreneurial firms, while also completing repairs due to storm damage.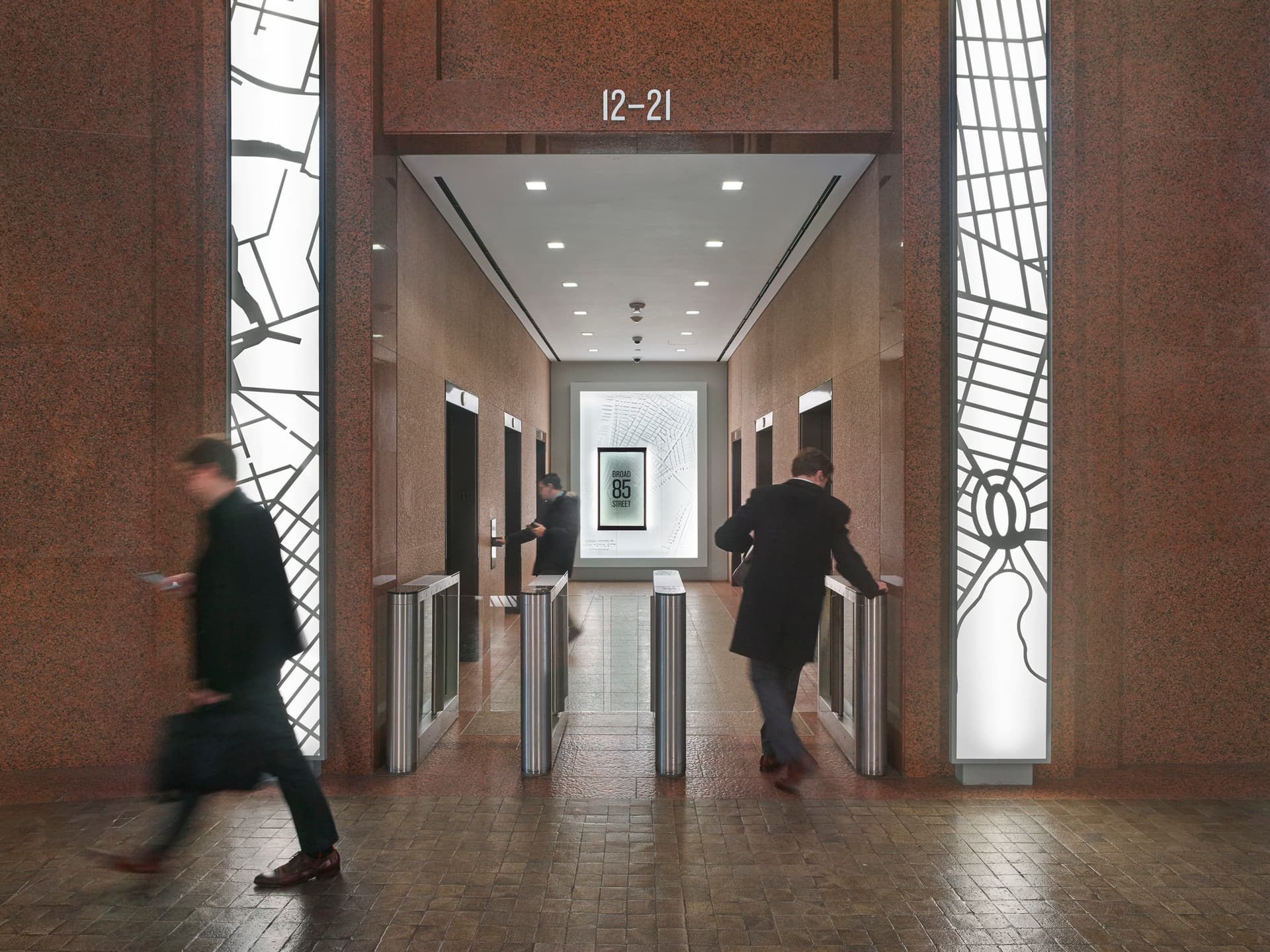 With enhanced lighting, graphics and tenant amenities, 85 Broad Street is now prepared for the diverse, dynamic future of New York's ever-evolving Financial District. With the project team's visual strategies supporting Beacon's marketing efforts, the owner was able to achieve over 90 percent occupancy within nine months.
An array of light bars plays off the building's unique geometry and leads pedestrians through a public passageway. Laser-cut, pure white relief maps nod to the neighborhood's rich history, while a digital ceiling installation add lively, constantly changing imagery.
Project Details
Client Name
Beacon Capital Partners
Square Footage
15,000 SF
Program
Lobby graphics, lighting, retail space, bike storage, flood barriers, media installation, branding & identity
Services
Interior design, experience design
Phase
Completed
Client Name
Beacon Capital Partners
Square Footage
15,000 SF
Program
Lobby graphics, lighting, retail space, bike storage, flood barriers, media installation, branding & identity
Services
Interior design, experience design
Phase
Completed
IES Illumination Award – Award of Merit
Build Architecture Awards – Winner, Best New York Corporate Lobby Renovation
IES Illumination Award – Award of Merit
Build Architecture Awards – Winner, Best New York Corporate Lobby Renovation