The Li Ka Shing Center for Learning and Knowledge at Stanford University School of Medicine brings together cutting-edge medicine, modern education and advanced technology, by design. Aspiring doctors practice life-saving skills in the safety of realistic simulations.
The Li Ka Shing Center helps Stanford University School of Medicine recalibrate the way medical education is conducted, while providing a fresh architectural interpretation of Stanford University's design guidelines. The center advances the concept of a "whole student environment" by weaving together student-life amenities and an array of flexible spaces with an advanced technology infrastructure that facilitates new modes of collaboration, communication and cross-disciplinary interaction.
Cultivating Multi-Modal Learning
Stanford's School of Medicine recognized the potential of next-generation technology to revolutionize the way knowledge is developed, shared and applied. The school embarked on the development of a new curriculum and facility that would bring learning and knowledge to life by making it an engaging, active experience. NBBJ collaborated with Stanford to translate this holistic vision into the master plan and program for the School of Medicine.
Caring for real human beings is an active process. Preparing students, interns, residents and experienced physicians for the rigors of medical practice requires facilities and programs of active learning. The center combines traditional and innovative environments. Classrooms and conference facilities can be reconfigured for varied group sizes and activities. Social spaces are integrated throughout the building, encouraging the valuable exchange that is often forged during casual conversation.
" Medical and graduate students are interacting together in this building…and that connection really forecasts the future of medicine. "

Phillip A. Pizzo, MD Dean, School of Medicine
Immersive Learning Center
The Immersive Learning Center brings together all modalities of simulation into one place. Designed in close collaboration with the lab's Associate Dean Dr. David Gaba, the facility stands apart as one of the most innovative and largest labs in the world. It allows students to integrate their classroom understanding in parallel with simulation-based practice. The ground floor creates a virtual microcosm of a hospital for a variety of learning experiences, addressing different aspects of cognitive and psychomotor skills.
The spaces are designed so that specific medical procedures or surgical operations can be practiced until the learner is competent. The space allows for diverse scenarios for students, from seeing a single patient to dealing with many patients at once, even mass casualty situations.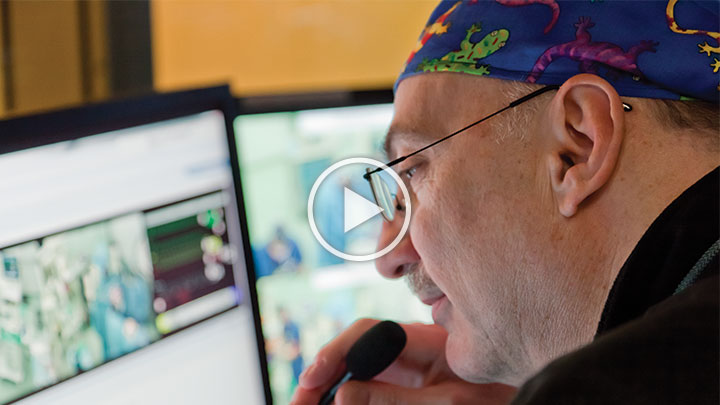 Integrated Project Delivery
The LKSC was designed and constructed through an Integrated Project Delivery (IPD) process. NBBJ and the contractor began working together during the schematic design phase, with the contractor providing constructibility, schedule and cost input. During the design development and construction documents phase, the team utilized design/build strategies to develop documentation for primary interior and building components for the entire exterior enclosure. Subcontractors, rather than the architect, provided complete detailing of building elements, such as the exterior enclosure, creating efficiencies in the documentation and shop drawing review process.