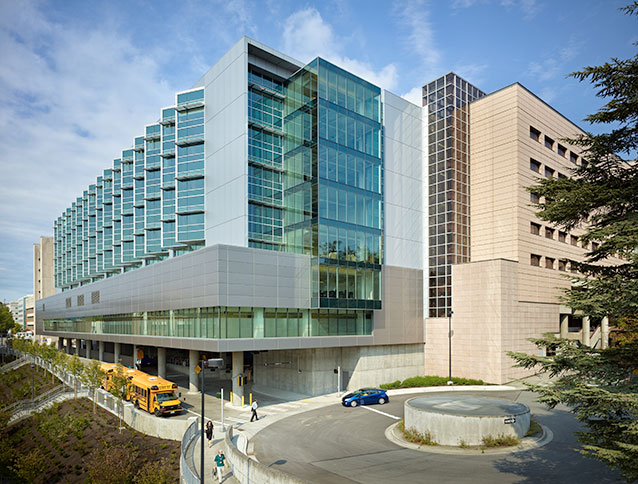 UW Medicine to Inaugurate Energy-Efficient
Montlake Tower Addition in October 2012
Eight-story, 273,000 square-foot expansion will provide new space for premature babies, cancer patients, latest in radiological imaging technology
Released by UW Medicine
UW Medicine today announced the Oct. 8 opening of the Montlake Tower addition to the University of Washington Medical Center (UWMC) – an eight-story, $215 million expansion that will provide additional space for premature babies, cancer patients and the latest in radiological imaging technology. Oncology, radiology and a neonatal intensive-care unit (NICU) each will have a floor in the tower; two other floors will serve computer-service functions and three floors are slated for future clinical use. The tower is one of the most energy-efficient hospital additions in the Pacific Northwest, outperforming Seattle's energy code by approximately 30% and the national baseline code by an estimated 33%, according to architectural firm NBBJ. It is among the first facilities to employ recommendations of a 2010 energy-reduction study by the UW's Integrated Design Lab and a consortium of architects, engineers and builders. Reduced power requirements brought by LED lighting, solar shading and other advantages are projected to save UWMC approximately $276,000 in energy costs annually.
Located at 1959 NE Pacific St. at the southern edge of UW's campus along the Montlake Cut, the tower was designed by NBBJ and built by Skanska USA. The project was funded by a mix of UW Medical Center cash and debt. Planning began in 2005 and construction started in 2007. Contractors completed the project on time and on budget.
In addition to a modern and patient and family-focused NICU, the tower will also house a 30-bed unit for oncology patients, additional MRI (magnetic resonance imaging) and CT (computed tomography) scanners, and new state-of-the-art interventional radiology and hybrid procedure rooms.
"This expansion is critical to ensuring UWMC continues to meet the needs for serving patients in our region who require tertiary and quaternary care," said Johnese Spisso, chief health system officer for UW Medicine. "The new facility allows us to provide this complex care in an efficient and high quality manner that will improve the patient experience and outcome."
"This addition supports our delivery of world-class care in a technically advanced and patient-centered healing environment, and it does so in a cost-effective, energy-efficient way," said Stephen Zieniewicz, UW Medical Center executive director. "We are indebted to the many people, particularly our Patient Advisory Council and our corporate partners, whose passion and expertise have contributed to this project. The tower will help us meet UW Medicine's mission to improve the health of the public."
The facility's leading-edge technologies, design, safety features and patient- and family-centered amenities are intended to create an environment that promotes healing. Patient rooms are located along the tower's periphery to allow natural light to stream in through large windows and spill into corridors through the rooms' frosted-glass doors, which slide rather than swing open. In addition, patient rooms and corridors have cushioned flooring for safety and sound absorption. South-facing rooms maximize solar shading and views of Portage Bay, Lake Washington and Mount Rainier, while north-facing rooms overlook a landscaped courtyard of bamboo groves and river cobblestones that glow with colorful lighting at night.
"We're proud to deliver a facility that will help so many in our community," said Skanska Project Executive Rob Robinson. "The work of the construction team is especially notable due to the amount of coordination to ensure smooth operations for the hospital and its patients while the job was under way."
"The design of the Montlake Tower integrates environmental performance with wellness strategies to create an atmosphere conducive to healing," said NBBJ Principal Phil Duff. "Patient rooms, for example, are exposed to plentiful natural daylight, which reduces energy costs and is proven to accelerate recovery times. The combination of these approaches is important in the design of hospitals, which are one of the most energy intensive building types in the United States are often associated with dark, dreary environments."
The second floor radiology unit features top-of-the-line imaging instruments at the forefront of capability, improving patient access to such highly specialized exams as advanced functional brain imaging with MR and ultra-low-dose CT. The CT scanners' application, approved in June 2012 by the Food and Drug Administration, involves the lowest doses of radiation of any such technology west of the Mississippi – about 70 to 80% lower than many CTs in use elsewhere.
In addition to abundant natural light, patient areas have wheelchair-accessible hand-washing sinks and "front porch" benches along the corridors for patients and their families. The new fourth floor NICU can accommodate 47 infants in 39 single rooms and four rooms for twins. Each room's lighting is customized to protect the neural development of premature infants. Two isolation rooms have different air pressurization for infants with infectious disease.
The oncology unit on the eighth floor features a 30-bed expansion that will open October 23. To accommodate families, patient rooms on this floor are slightly larger. Bedside portals include plug-ins for laptops and video-game consoles, while dialysis connections on both sides of the bed allow patients to receive IVs in either arm. A nearby conditioning room provides patients with easy access to physical and occupational therapy. Other safety measures include lifts above each bed to help hospital staff move patients, and dual sinks in each room. Both the oncology unit and the NICU have spacious lounges for families, who are often displaced from their homes for weeks or months. The lounges feature comfortable, contemporary furniture, floor-to-ceiling windows, a kitchenette, washer-dryer and a shower.
To accommodate further growth, the Montlake Tower project provides future expansion space for two more MRIs and up to eight operating rooms, as well as three more floors of patient rooms for either 24 intensive-care unit beds or 32 medical-surgical beds on each floor.